110V Medium-Priced LED Neon Light-Eco Green Neon Light
ETL | CE | RoHS Certified.
$32.99 – $109.99
/count/ sold in last /time/ hours.
$57.99
Buy 5pcs get 5%OFF, buy 10pcs get 10%OFF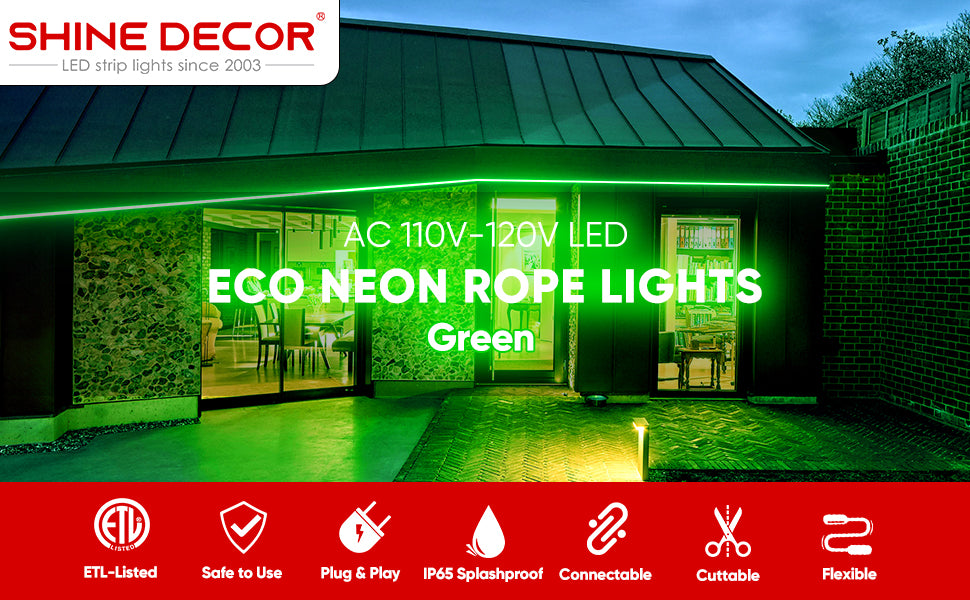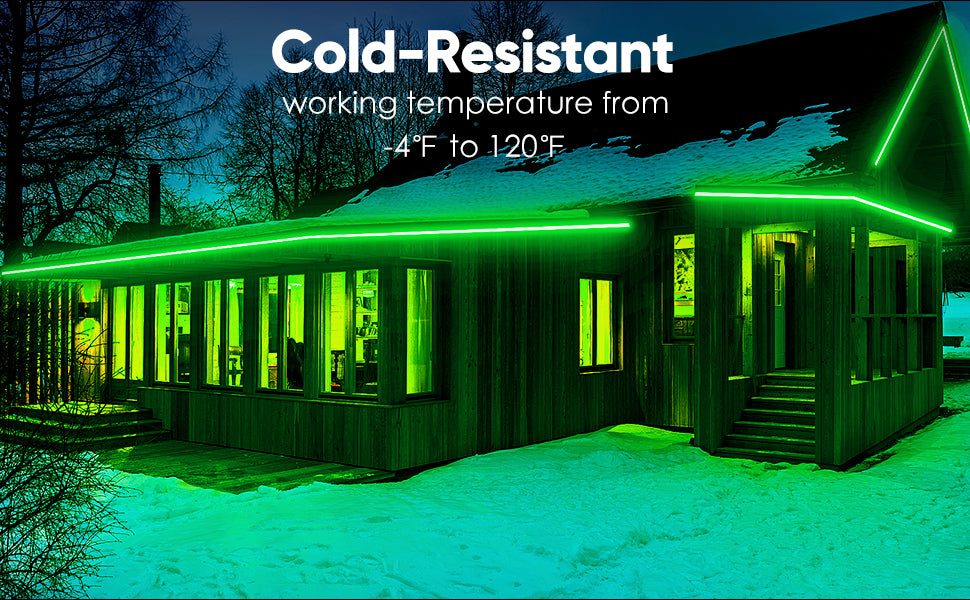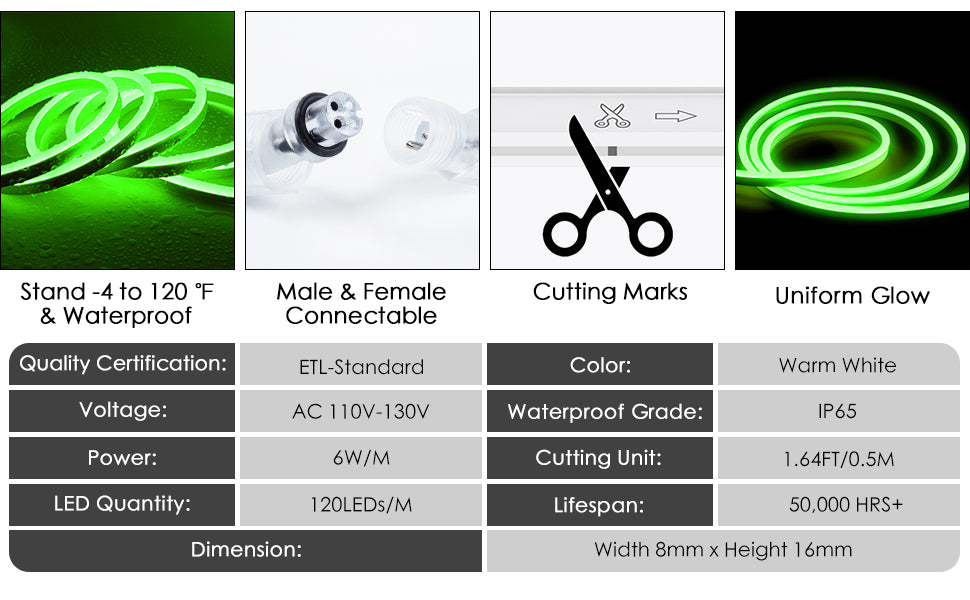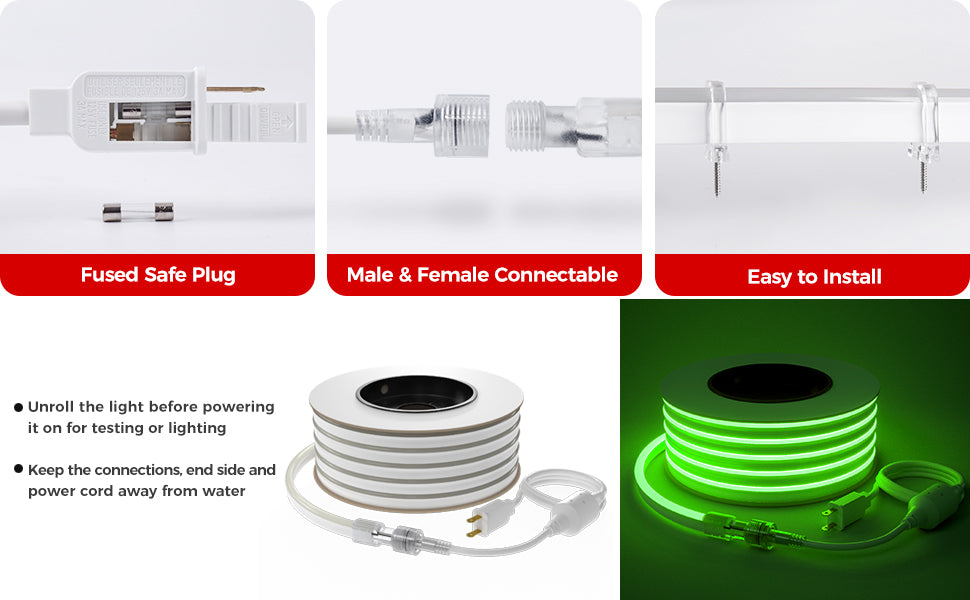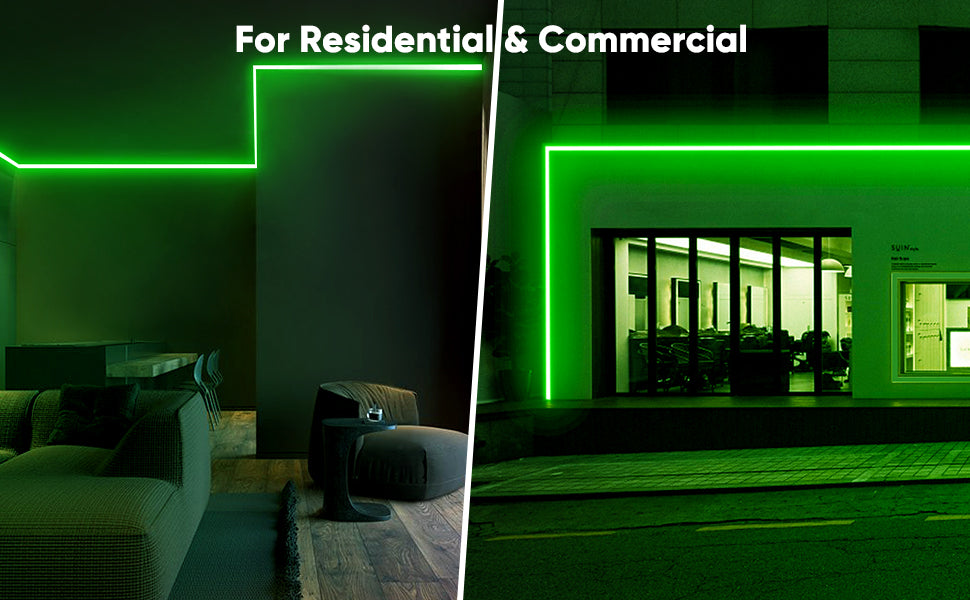 This green neon light offers perfect lighting for roofs, windows, doors, storefronts, landscapes, and signboards. The cozy and soft color makes it ideal for decorative color display effects.
Features:
Stable configuration and uniform glow distribution without flicker or dark spots.

Cut along the black spot every 1.64ft to create customized lighting lengths.

High-quality silicone material, IP65 splash-proof, heat-resistant, and flame-retardant PVC coating.

110-120V plug and play. UL standard power cord with polarized plug to ensure safety.

Ambient lighting, each power cord supports Max 164ft/50m neon rope light.
Package included
For 16ft
16ft LED neon rope light x1,  4.92ft fused power cord x1, mounting clips x 10, screws x20, user manual x1
For 32.8ft
32.8ft LED neon rope light x1,  4.92ft fused power cord x1, mounting clips x 20, screws x40, user manual x1
For 50ft
50ft LED neon rope light x1,  4.92ft fused power cord x1, mounting clips x 30, screws x60, user manual x1
for 65.6ft
65.6ft LED neon rope light x1,  4.92ft fused power cord x1, mounting clips x 40, screws x80, user manual x1
for 98.4ft
98.4ft LED neon rope light x1,  4.92ft fused power cord x1, mounting clips x 60, screws x120, user manual x1
Usage Tips
1. Unroll the neon light strip coil before testing lighting on or installation. Test the light's function before installing or cutting.
2. Do not bend the light to sharp angles or make repeated and continuous bending as this may damage circuit traces.
3. Dry all the connections before using outdoor settings to avoid water seeping in.
USA Warehouse for US Customers- Free Shipping, Tax Free
It takes 3-5 business day delivery time to Ship products from our USA warehouse to customers in the US.
An item is usually shipped (via UPS/USPS) the same day or 24 hours after purchase.
Once the item is shipped out, you will get a CI PDF from us for record.
You will be updated with the shipping status via our email.
Return Policy for Damaged/Defective Items
If you found your item was defective unfortunately, we are sorry for the unexpected shopping experience. Please kindly provide the proof of damage and proof of purchase (Picture or Video) to us.
With the guarantee of accurate and prompt return process, please contact our Customer Support team via mail info@shine-decor.com or call at +86 166 8054 7173 within 7 days after delivery.
Shine Decor will provide a free replacement (Free shipping) or a refund. And If the defective item needs to be shipped back, we will take charge of all the shipping fee (Please inform us the estimated shipping fee, we will pay it to your Paypal before shipping start).
If the damage is found to be caused by shipping or improper packing, Shine Decor will do the new replacement arrangement with free shipping, while you needn't to ship back the original one.
Return Shipments
Please send your return light to the address below:
Min Fang - Annie
4097 Temple City Blvd
El Monte,
CA 91731 United States
+1 909 990 7893
Send tracking information to Shine Decor via mail info@shine-decor.com.
After we received the return with inspection, we will issue a refund as a refund policy claimed.
---
For further information, we provide a detailed shipping & return policy page. Should there be any questions, you are encouraged to send us an email for assistance.