WARRANTY 
All of our products are warranted against defects in materials and workmanship for a period of one year from the date of original purchase. We provide 1 month hassle-free full refund, 6 month money back or free replacement and 12 months limited warranty.
WARNING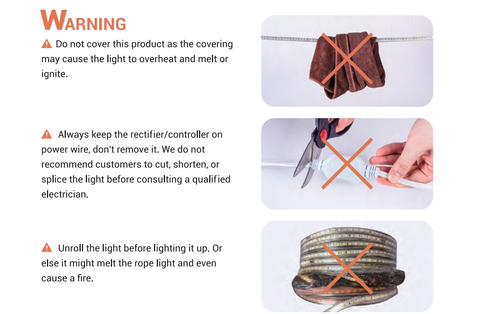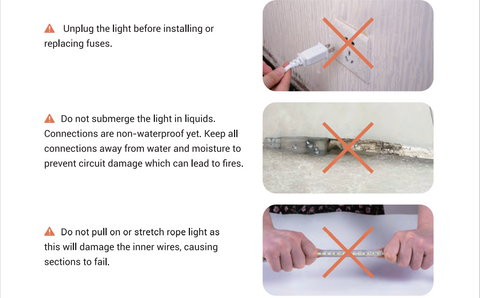 What is the different between LED STRIP LIGHT and LED NEON LIGHT?
LED STRIP LIGHT and LED NEON LIGHT are essentially the same, they have different light diffusion effects due to their different outer jacket material. You can see individual light dots on the LED STRIP LIGHT when it's illuminated, whereas you won't see it on LED NEON LIGHT.

For decoration purposes, LED NEON LIGHT would be the best choice for creating a lighting atmosphere, while LED STRIP LIGHT tends to be placed hidden from direct view, most used for lighting the room instead of using main chandelier on the room and more widely used in residual and commercial applications.
 
We offer professional LED lighting solutions and LED accessories available to make your project a success. Contact us for more product information at www.shine-decor.com via email or visit,  you'll instantly get help.
Note: If you are not sure which accessories to buy, please let us know your Amazon order ID and tell us the accessories part name you want to buy, and we will tell you the right link to buy. We have types led neon lights, if you are not sure please contact us first. Thanks for understanding.
 Note: If category picture not clearly, please also check on here
 https://www.shine-decor.com/pages/buy-guide
CUTTING INSTRUCTIONS
Important Note: Although all of our strip light can be cut every cuttable interval, we do not recommend cutting for the following reasons:
Cutting the rope light voids any certification the product have had in it's pre-modified state.
Cutting or damaging outer plastic tubing can cause an electrical/fire hazard.
Cutting anywhere besides the cut marks will damage that section of rope light and cause it to fail.
However, we still provide step-by-step guidance on how to safely cut rope light without damaging it and making it work for your specific needs. Please follow these steps as strictly as possible.
1. Disconnect power before you make any cuts.


2. Measure the desired length for your application, most of our rope light is cuttable at every 1 meter (approximately 3.3FT). Make sure your desired length is divisible by the cuttable interval. If not, round up or down to the nearest interval and make sure this new length will still work with your project.


3. Locate the closest cut spot. There will be a black dot on the neon light indicating where to cut the rope light. Be sure to avoid cutting the diodes or the circuit boards. If you cut the light anywhere else, the internal circuit scissors or utility knife, line it up perpendicularly and cut exactly at the dot.

Try to keep the cut as clean and smooth as possible. You will see inner wires at the ends of your rope lights. This completes cutting the rope light and has prepared the end to receive any accessories that might be attached. A cut piece of rope light must have a few more things before it will work: a power cord with an inline rectifier, end cap, dimmer, and controller if necessary.

POWERING INSTRUCTIONS
If you're planning to cut several pieces to place in different locations, you will need to buy additional accessories to power the new cut piece. Our 120V straight line voltage driverless rope lights use AC high voltage and do not require a power adapter. So for single color rope light, you should buy extra power cord and end cap, or a dimmer and end cap.

For RGB rope light, you should buy additional controller pack with end cap. The way to attach a power cord/ dimmer/ controller to your new cut piece is quite the same, they all connect to the light by pin. Last but not least, end cap must be attached before attaching to a power source.
1.Disconnect power ­first.

2.Locate and identify the 2(single color) or 4(RGB) wires in the LED strip light on the positive side. It is important to keep the power flowing in the same direction to avoid mixing up polarity. The sharp prongs of the pin should be in the same direction with the "→" mark on the strip light.

3.Line up the sharp prongs of the pin with the strip light wires. Gently insert the pin into the LED strip light making sure to make a solid and correct connection with the internal wire. . The pins do not need to be fully inserted, if you push the pins too far into the strip, it may cause damage to the wires or cause a short circuit.

4.Insert rounded prongs of the pin into the power cord/dimmer controller/RGB controller, LED lights are polarized, if they do not light up when you fi­rst plug them in, simply unplug the power cord and turn 180°the power cord as indicated and reconnect the strip light again.

5.Test the strip to make sure the light works by plugging in the power supply into an outlet. The lights should now come on. If the lights do not come on, please check the fi­rst step again. Always keep the rectifi­er or controller on power wire, don't remove it.
WATERPROOFING INSTRUCTIONS
Important Note:
Our 120V LED rope lights come not fully waterproof. When using our rope lights outdoors, all connections, power cords, and end caps must be properly resealed to prevent moisture intrusion which can cause dangerous short circuiting and even lead to fires. When using lights indoors, proper waterproofing would extend their lifespan.
Also re-waterproofing your LED strip is a must after you have cut the strip. waterproof PVC or silicone is required to seal all connections, power cords, and end caps. NOTE the use of any non-recommended sealant e.g. electrical tape, may result in a strip light or strip light accessory failure and will void the warranty.
The power cord, fuse, and connect place are not waterproof, if you want to use them in a waterproof condition, we suggest you use a waterproof case for safety use.

1.Disconnect power first.

2.Then waterproofing the connections by applying silicone adhesive liberally into the inside and outside of theconnected area. Gently press out any bubbles and make sure to wipe out excess adhesive, let it dry for 24 hours.

3.Slide the heat shrink tubing over the connected area, then use a heat gun to heat up the tubing to create the seal.

4. To create an authentic watertight seal, you need to further waterproof it by wrapping more tubing around connections in an overlapping spiral fashion, then use a heat gun to repeat these steps. Make sure the end cap get waterproofed too.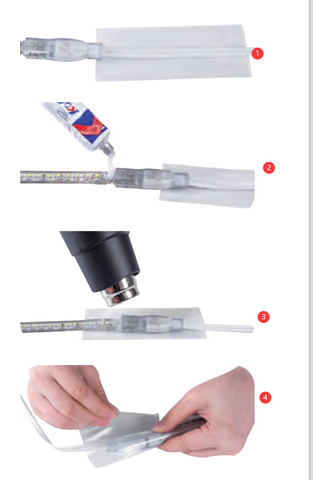 Waterproof for end cap
-- Squeeze a dab of silicone glue into the end cap, then plug in the LED strip into it.

---Cut off a proper length of the heat-shrink tube and make sure the heat-shrink tubes cover around the connector area and heating the heat shrink tube with the heat gun.

---Double-check to ensure the heat-shrink tube fully melt at the connector area.
Here is the video reference.
How to install Shine Decor 120V LED neon light?
How to do waterproof and cut Shine Decor Led neon light?
 https://www.shine-decor.com/collections/110v-led-neon-lights
 https://www.shine-decor.com/collections/110v-led-strip-lights
Questions? Problems? Bulk order discount?
Instantly chat to our Customer Service Representative on www.shine-decor.com
or email us at info@shine-decor.com, we'd love to hear from you!