6-lights modern industrial linear kitchen island chandelier light fixture
$259.99
This item is currently sold out.
Size Guide
Buy Guide for Industrial Linear Chandelier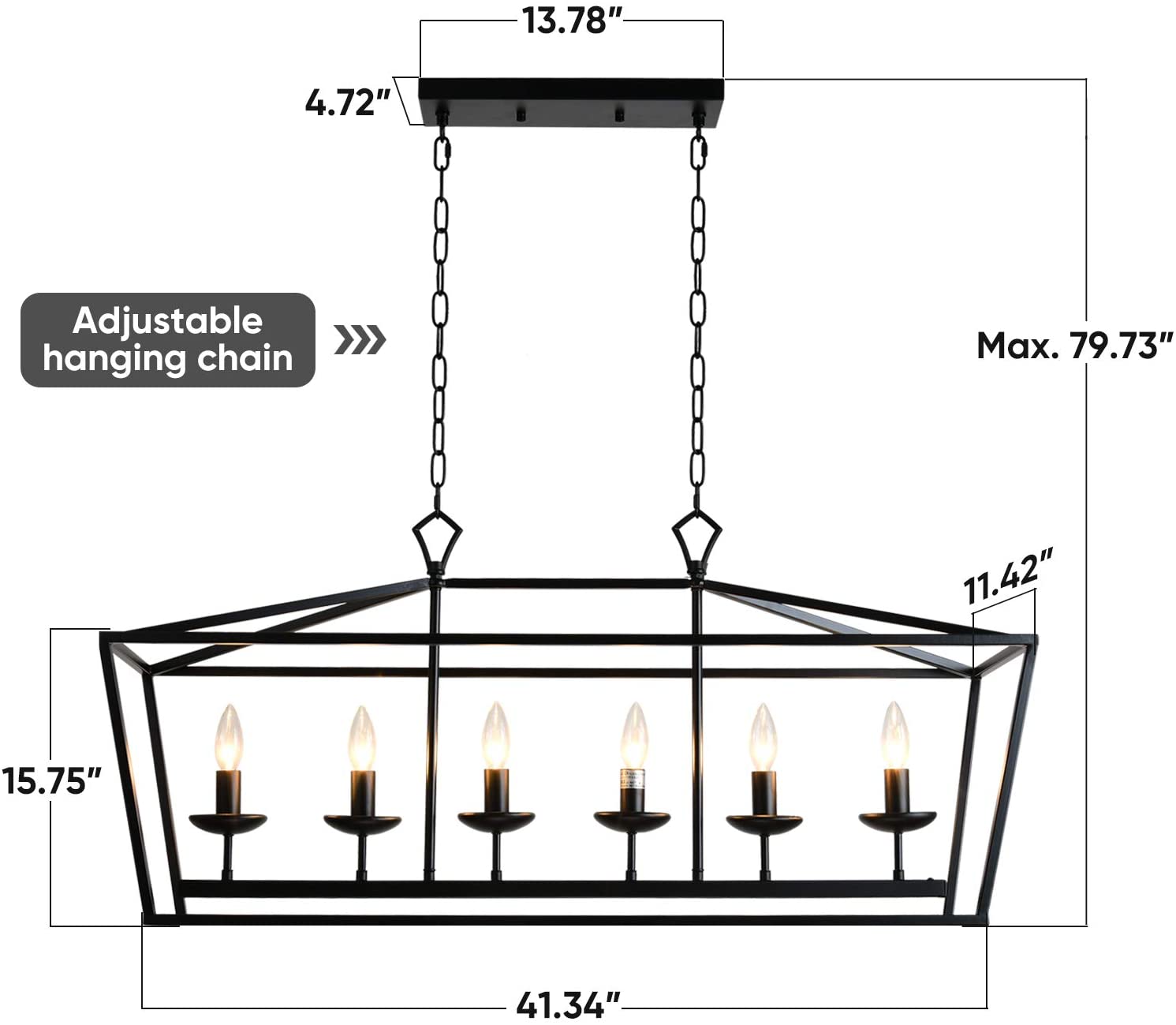 SPECS
Spec
Value
Spec
Value
Input Voltage
AC 120V
Power Source
hardwired
Chandelier Weight
4.7kg
Light Source
Incandescent, CFL, LED. etc
Bulb Base
E12 (bulbs not included)
Wattage
max. 40watt per bulb
Max Height
79.73 inch
Height Adjustable
YES
Color
matte black
Material
iron
Certificate
UL-Listed
Sloped Ceiling Compatible
YES
Dimensions
41.34"x11.42"x79.73"
FEATURES
UL standard quality. The industrial linear pendant lighting fixture is UL standard which strictly meets national standards, ensuring the safety of your family. Crafted from premium iron, it has a strong bearing capacity and sturdy construction, durable to use in the kitchen over table, dining room, and hallway.
Versatile use. For most of our customers' concerns, we made the modern but vintage metal lights fixture suitable for both slanted/vaulted/sloped and flat roofs. Max. height 79.73 inches supported by detachable metal chains, this 6-light hanging light is adjustable, suitable for high and low ceilings. Hang it over your dining table or suspend it above the entrance according to your needs.
Decoration & lighting. This island pendant lights as house furniture do not only offer enduring glamour, but also creates lighting and fabulous flavor charm for your kitchen, bedroom, living room, pool tables, dining room, entryway, hallway, playroom, reading room, balcony ceiling, closet, and so on.
Easy installation. All parts and useful user manual included for quick and easy installation. You need to prepare 6 pieces max. 40watts E12 base LED bulbs(not included) for this industrial pendant light. Shine Decor recommends candelabra bulbs or colorful to form a perfect match and maximize the beauty of the chandelier.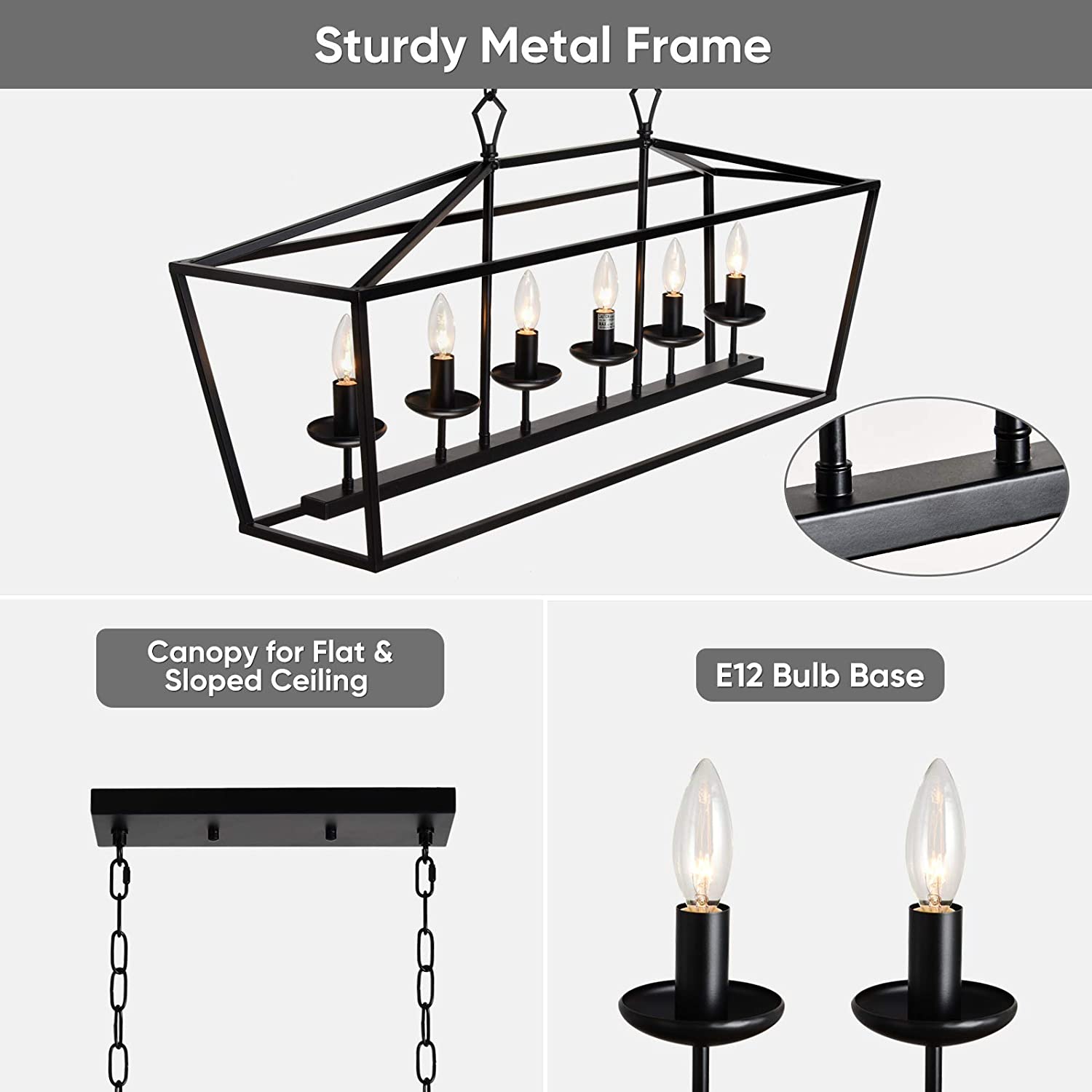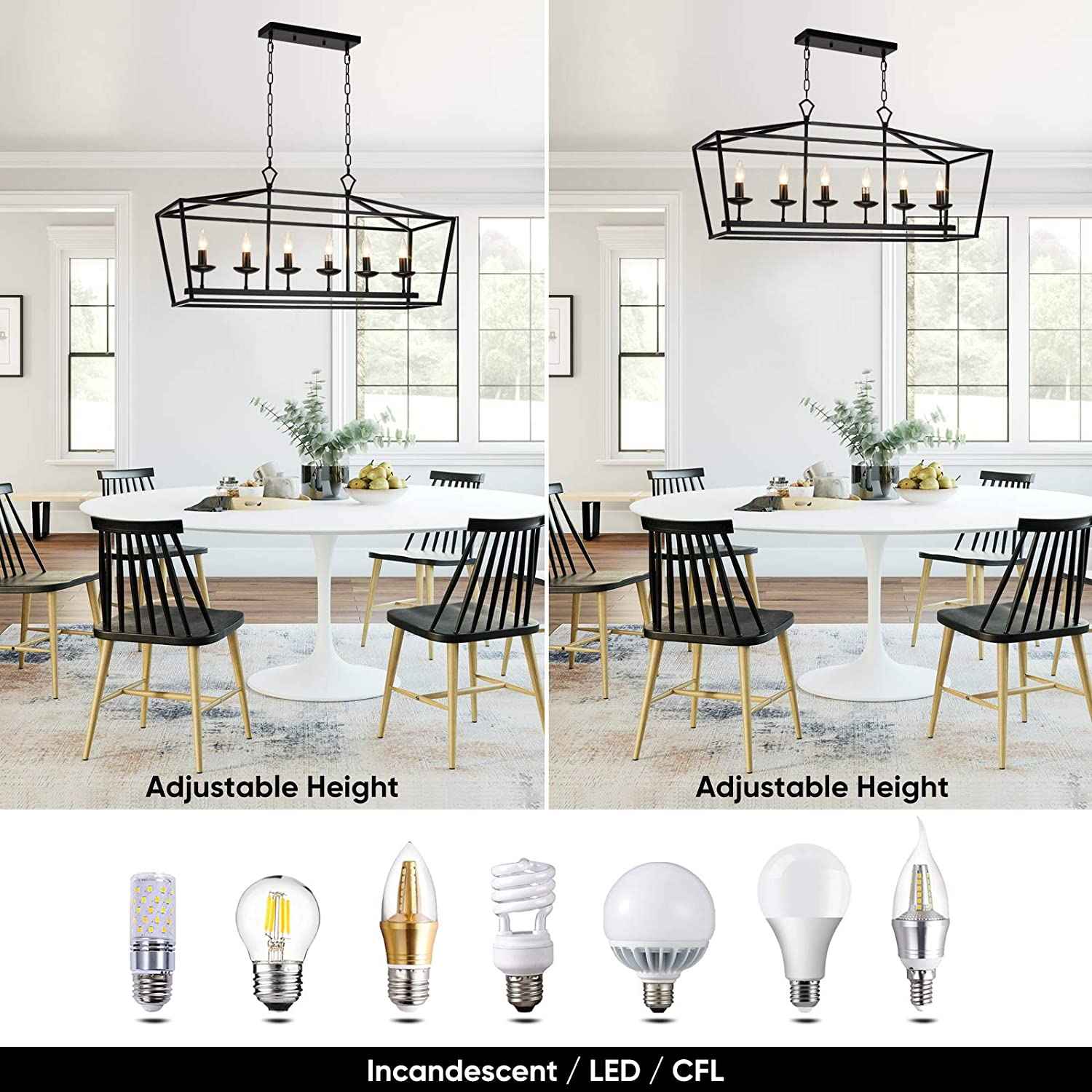 Add to Compare
Shine Decor 6-lights modern industrial linear chandelier has vintage classic stylish for both indoor or ceiling use.
If you are bothered with a boring and dumb kitchen, bedroom or restaurant, just have a look and use this clean-lined kitchen island chandelier feature with an open rectangular frame sprayed in a matte black finish, with 6 candlestick-shaped bulb bases sitting lined up on the metal rod, full of aesthetic charm. It refreshes a touch of stylish elegance to any room and home decoration.
The chandelier is adjustable for different heights of ceilings, making a great choice for residential and commercial decoration, especially in festivals.
Please check the specs in the Size Guide above before your purchase, and read the user manual carefully before assembling the chandelier.
Note of Usage
Keep it in dry locations and not directly exposed to moisture and water.
Do not touch the bulbs on working status to avoid the risk of low-temperature burn.
Wipe with a soft dry cloth after cutting off electricity.
Do not use cleaners and abrasives to avoid peeling of the finish.

USA Warehouse for US Customers- Free Shipping, Tax Free
It takes 3-5 business day delivery time to Ship products from our USA warehouse to customers in the US.
An item is usually shipped (via UPS/USPS) the same day or 24 hours after purchase.
Once the item is shipped out, you will get a CI PDF from us for record.
You will be updated with the shipping status via our email.
Return Policy for Damaged/Defective Items
If you found your item was defective unfortunately, we are sorry for the unexpected shopping experience. Please kindly provide the proof of damage and proof of purchase (Picture or Video) to us.
With the guarantee of accurate and prompt return process, please contact our Customer Support team via mail info@shine-decor.com or call at +86 166 8054 7173 within 7 days after delivery.
Shine Decor will provide a free replacement (Free shipping) or a refund. And If the defective item needs to be shipped back, we will take charge of all the shipping fee (Please inform us the estimated shipping fee, we will pay it to your Paypal before shipping start).
If the damage is found to be caused by shipping or improper packing, Shine Decor will do the new replacement arrangement with free shipping, while you needn't to ship back the original one.
Return Shipments
Please send your return light to the address below:
Min Fang - Annie
4063 Temple City Blvd,
Suite A El Monte,
CA 91731 United States
(626)-626-5043
Send tracking information to Shine Decor via mail info@shine-decor.com.
After we received the return with inspection, we will issue a refund as a refund policy claimed.
---
For further information, we provide a detailed shipping & return policy page. Should there be any questions, you are encouraged to send us an email for assistance.