110V 7x15mm Double Row Cold Resistant LED Strip-Ultra Bright Strip
Launched On 2020-10-16
ETL | CE | RoHS Certified.
$68.99 – $166.99
/count/ sold in last /time/ hours.
$77.39
As an upgraded product, the double row LED strip light's series-parallel wiring configuration requires high manufacturing skills to ensure high fault tolerance and efficiency, which makes a more stable configuration and uniform glow distribution, no dark section or dot. 

The DOUBLE ROW strip light uses safe and high-quality material, with less than 150mg/kg extremely low Sulphur content, containing no lead, cadmium, antimony or any toxic metal.
The product is widely used for commercial lighting, building and other architectural occasions.
Please check more specs in the Size Guide above before your purchase. 
Parts Included

Necessary accessories are included for use, if have extra needs, we also provide separate accessory kit.


Package contents

50 Feet Kit:
1 x 50ft strip light with power cord, 1 x 10inch heat shrink tube, 20 x aluminum mounting clip, 40 x screw, 1x user manual
82 Feet Kit:
1 x 82ft strip light with power cord, 1 x 10inch heat shrink tube, 50 x aluminum mounting clip, 100 x screw, 1x user manual

150 Feet Kit:
1x 150ft strip light with power cord, 1x 20inch heat shrink tube, 90x aluminum mounting clip, 180x screw, 1x user manual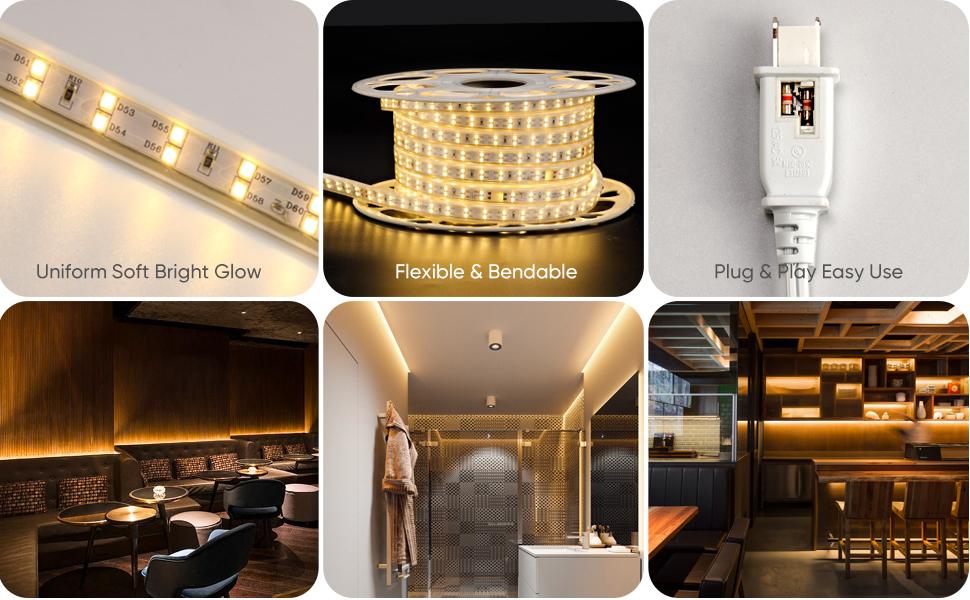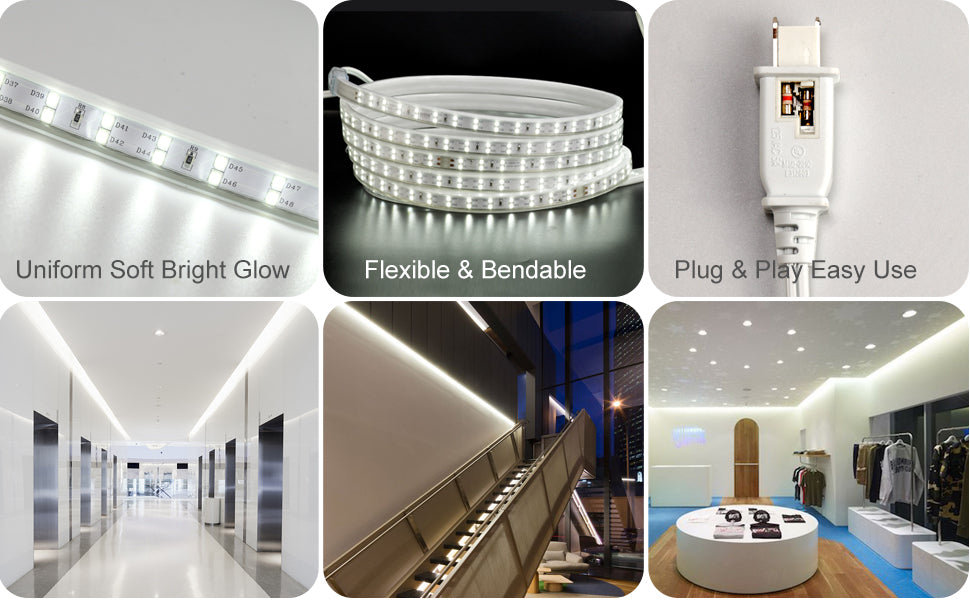 I haven't been able to install the light strips yet
Hieverything seems to be ok, but because of COVID 19, I havent been able to have it installed, it will be installed in 2 months from now. I will get back to you then.
Thank you
Excellent product and service
The best product and service, I will purchase again.
USA Warehouse for US Customers- Free Shipping, Tax Free
It takes 3-5 business day delivery time to Ship products from our USA warehouse to customers in the US.
An item is usually shipped (via UPS/USPS) the same day or 24 hours after purchase.
Once the item is shipped out, you will get a CI PDF from us for record.
You will be updated with the shipping status via our email.
Return Policy for Damaged/Defective Items
If you found your item was defective unfortunately, we are sorry for the unexpected shopping experience. Please kindly provide the proof of damage and proof of purchase (Picture or Video) to us.
With the guarantee of accurate and prompt return process, please contact our Customer Support team via mail info@shine-decor.com or call at +86 166 8054 7173 within 7 days after delivery.
Shine Decor will provide a free replacement (Free shipping) or a refund. And If the defective item needs to be shipped back, we will take charge of all the shipping fee (Please inform us the estimated shipping fee, we will pay it to your Paypal before shipping start).
If the damage is found to be caused by shipping or improper packing, Shine Decor will do the new replacement arrangement with free shipping, while you needn't to ship back the original one.
Return Shipments
Please send your return light to the address below:
Min Fang - Annie
4097 Temple City Blvd
El Monte,
CA 91731 United States
+1 909 990 7893
Send tracking information to Shine Decor via mail info@shine-decor.com.
After we received the return with inspection, we will issue a refund as a refund policy claimed.
---
For further information, we provide a detailed shipping & return policy page. Should there be any questions, you are encouraged to send us an email for assistance.