$78.00 – $409.99
SMD 5050 60LEDs/m cuttable 110V-130V 12.5x23mm Multicolor LED RGB Neon Rope Lights, waterproof with dimmable RF controller
$78.00
Shine Decor uses high quality LED chips of SMD 5050 60LEDs/M with vivid color rating CRI 80+ for this LED RGB neon rope light. The big dimension of the 12.5x23mm ready-to-use neon rope light is an ideal choice for exterior highlight landscape building lighting decoration.

The colorful LED neon strip light has 14 colors and 3 modes for choice. Select different colors or modes, dim or brighten the lights to match the corresponding atmosphere. A 24 key RF remote can be used 360°and it's working distance is up to 30-50FT, strong signal even penetrates walls, doors, and cabinet. 
Note: Please pair your remote to the controller individually per instructions, as RF (radio frequency) signals can be inadvertently interrupted by other devices. When light's color goes randomly without control, unpair and pair the controller with remote by following guidance paper in package.

Please click the Size Guide above to check more specs of the item.
Typical Applications
1. Festival Celebrations. The long-lifespan RGB neon rope light creates a welcoming and romantic atmosphere for festival activites, while it works at a low energy consumption up to 8.5W/M.

2. House Decorations. The color changeable flexible neon rope lights helps to create your wanted lighting design and signs, suitable for both indoor and exterior decor, such as living room, kitchen, under cabinet, dining room, bedroom, upstairs, party decoration, stairway, wedding, etc.

PACKAGE INCLUDES
16.4ft
Aluminum mounting clip x 10, screw x 20, remote x1, RF controller x 1, 25cm heat shrink tube x 1

32.8ft
Aluminum mounting clip x 20, screw x 40, remote x1, RF controller x 1, 25cm heat shrink tube x 1

50ft
Aluminum mounting clip x 30, screw x 60, remote x1, RF controller x 1, 25cm heat shrink tube x 1

150ft
Aluminum mounting clip x 90, screw x 180, remote x1, RF controller x 1, 25cm heat shrink tube x 1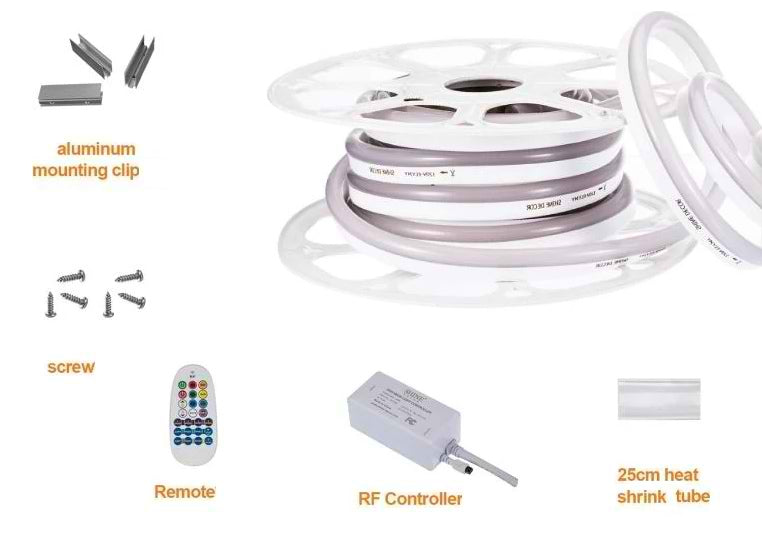 USA Warehouse for US Customers- Free Shipping, Tax Free
It takes 3-5 business day delivery time to Ship products from our USA warehouse to customers in the US.
An item is usually shipped (via UPS/USPS) the same day or 24 hours after purchase.
Once the item is shipped out, you will get a CI PDF from us for record.
You will be updated with the shipping status via our email.
Return Policy for Damaged/Defective Items
If you found your item was defective unfortunately, we are sorry for the unexpected shopping experience. Please kindly provide the proof of damage and proof of purchase (Picture or Video) to us.
With the guarantee of accurate and prompt return process, please contact our Customer Support team via mail info@shine-decor.com or call at +86 166 8054 7173 within 7 days after delivery.
Shine Decor will provide a free replacement (Free shipping) or a refund. And If the defective item needs to be shipped back, we will take charge of all the shipping fee (Please inform us the estimated shipping fee, we will pay it to your Paypal before shipping start).
If the damage is found to be caused by shipping or improper packing, Shine Decor will do the new replacement arrangement with free shipping, while you needn't to ship back the original one.
Return Shipments
Please send your return light to the address below:
Min Fang - Annie
4063 Temple City Blvd,
Suite A El Monte,
CA 91731 United States
(626)-626-5043
Send tracking information to Shine Decor via mail info@shine-decor.com.
After we received the return with inspection, we will issue a refund as a refund policy claimed.
---
For further information, we provide a detailed shipping & return policy page. Should there be any questions, you are encouraged to send us an email for assistance.